In the beginning of November we put a pile of cards and a bowl in the middle of the dining table. The idea was for us to write down the things for which we were thankful. We read those cards tonight at supper (we'll be eating turkey and mashed potatoes on Sunday night with two other American families). Here's what we said:
hot food on a cold morning
food
3 boys
a dad for my boys that loves, gives, plays and hurts with them
Jill because she is so strong and wants to make our world a better place for everyone to live in
my friends, Raphael and Léon
snow!!
a body healthy enough to run, exercise hard, play, and walk
the smell of coffee
we found such a nice (and cheap) winter coat for Sam
donuts with hot chocolate and coffee on a Saturday afternoon
10,000 Villages and other organizations like it that care about making a difference in the world
being alive
Jack, who adds life to our house
food
that we could have a computer to listen to all the fun things
Joel because he loves to sing and play guitar and he fills our house with music
the earth, sun, everything God made
Sam because he is so responsible with each task we give him and almost always does them without complaining
football
variety in food, people, colors, imagination, etc.
a house with a kitchen in the back so it's hidden from view
Jack because he loves to make us laugh and brings such joy to our lives
God died on the cross for our sins
books, that I can read, for libraries, book stores, and good stories
friends
I have a mom and a dad
Jill is my best friend
Jack CAN read!
Sam taking so much initiative lately
crescent rolls because they taste so good!
family
Sam is a great example to his brothers
It snowed all day today so the kids had a ball playing outside when they came home from school. I pretended that there were no daily chores to do today. We kind of went easy on the studying as well. It is really a holiday (in the US) anyway, right??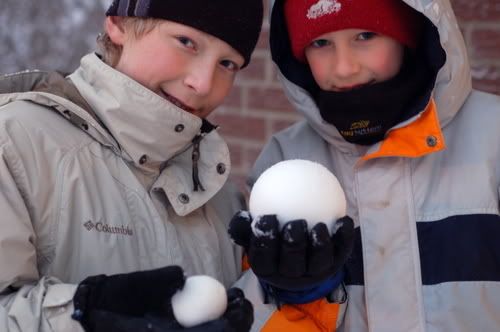 Sam and Laurent (neighbor)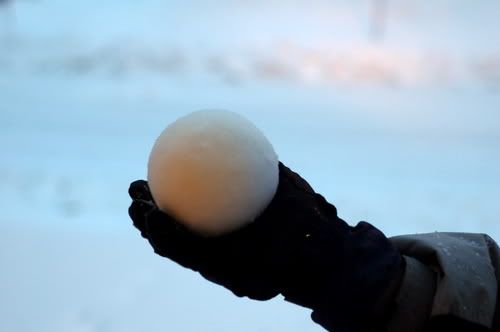 Sam's perfect snowball