the whole board...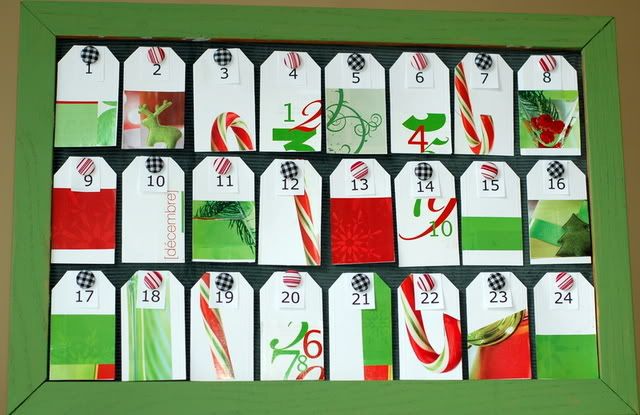 and up close
Here's what I've been doing the last few days. I've had an advent calendar for the kids each year for the past few years, but I thought it might be time for a change. Then I saw an idea
here
and decided to COPY.
I'm so excited about how little money I spent. Sam and I figured it must be under $3 total. I used blank printable business cards from the Dollar Store for the tags. Then I cut out all the red and green pretties from a wine catalogue that came with the newspaper and then pasted them on my cards. I printed out the numbers myself and painstakingly cut them out (probably the hardest part of the whole project). I also bought the little fabric-covered brads at the DS (16 for $1). I already had the frame. I took it apart, changed the fabric that was covering the back, painted it, and put it back together. I attached the tags with Velcro and VOILA!
I'm going to paste a slip of paper to the back of each card that will suggest an activity we can to do together as a family. Sometimes the activity is to listen to a story together or to make a gift to give away, but the goal is for us to celebrate Christ's birthday together and to put the emphasis on the right things.
It was super fun to put it all together. I think that it's been too long since I did something creative with my hands and it felt good to do it.